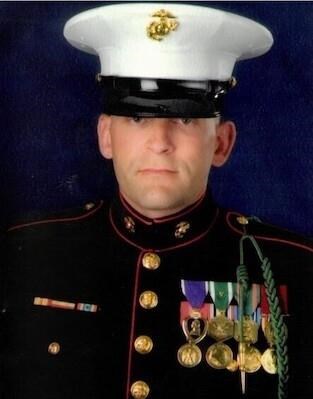 On December 7, 2021, the Forge Forward Project received an anonymous donation on behalf of Michael Roper who died November 29, 2020, in St. George, Utah, due to the inescapable effects sustained while serving our country as a U.S. Marine.
"Every dollar we raise in donations is sacred," said Bric Simpson, CEO and co-founder of the Forge Forward Project. "It's our mission to end veteran suicide, and as a veteran-owned and operated organization, we feel the weight of every story that ends too soon."
This is Michael's story.
Michael is the son of Marlan and Patty Roper and was born August 10, 1973, in St. George. He attended Utah Technical College where he earned various automotive certifications.
He proudly joined the U.S. Marine Corp. in 2002 and graduated Boot Camp from Camp Pendleton where he received the top marksman Leatherneck Award.
Michael served five deployments, all in Iraq. His combat brothers recognized him as a well-respected soldier and a man of character. He received the Navy and Marine Corps Medal with combat, Marine Corps Good Conduct Medal, Purple Heart, Navy and Marine Corps Commendation Medal with combat, Combat Action Ribbon, Sea Service Deportment Ribbon with two stars, Iraq Campaign Medal, Global War on Terrorism Service Medal and Global War on Terrorism Expeditionary Medal. His Purple Heart was awarded due to injuries received in Baghdad while in combat. He was honorably discharged in 2010 with the rank of staff sergeant.
One of his mom's favorite memories of Michael is when he asked her to teach him how to waltz so he could attend the Marine Officer's Ball.
Motorcycles, camping and the serenity of the Arizona strip were some of Michael's greatest loves.
He was always known for his big heart. He made others feel special while serving with compassion and love; he never judged anyone.
"Michael's story is one of the many reasons why we are so passionate about what we do," said Nathaniel Free, Chief Communications Officer of the Forge Forward Project. "Veterans who have seen combat or feel isolated are the most vulnerable, with historically the least resources available."
According to studies, twenty to 30 percent of veterans who commit suicide also screened positive for PTSD. Many more go undiagnosed.
For the Forge Forward Project, the only acceptable answer is to bring peace and healing to those who have suffered, like Michael, under the inescapable effects sustained while serving in the U.S. military.
The Forge Forward Project would like to personally thank all who have served with and loved Michael.